About Statutory Inspections
Formed in 2004, Statutory Inspections Ltd has grown into the UK's largest independent Thorough Examination company. After years of delivering high-quality forklift inspections, we have become one of the UK's leading Thorough Examination companies. Offering a fully managed service, including site inductions, health and safety documents and inspection reminders. Our independence rules out any conflict of interest, resulting in high-quality inspection reports from expert engineers.
Carrying out over 30,000 Thorough Examinations a year, our engineers inspect some of the largest forklift manufacturers in the World including Linde, Jungheinrich, Still and more. Covering the UK, our team ensure we offer a consistent and high quality of work on every single inspection. With regular training and auditing, the engineering team can carry out inspections on workplace equipment under LOLER 98 and PUWER 98 regulations.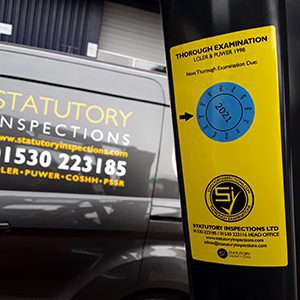 Equipment Identification
For ease of tracking and management, all equipment that has been inspected is marked up clearly. This allows you to see which items are within current LOLER requirements. We use durable marine quality stickers that show the next due date, barcodes and numbered tags on all forklifts. PAT testing of electrical items used in harsh engineering environments are stickered up with a Permatag, the UK's strongest label. Cable ties are used on smaller lifting tackle with a numbered and coloured tag scheme.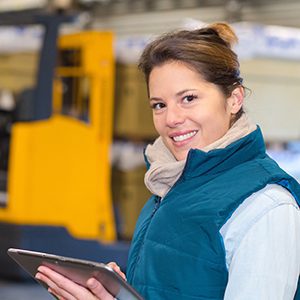 Easy Access
All your documentation is supplied to you as a PDF via email and accessible on our secure online portal. Fully searchable and kept for up to 3 years, you can download reports and certificates whenever, or however, many times you like. Have a fleet of vehicles and equipment? We can upload a unique schedule for you. After that, we can update it following any inspections and add any new or additional equipment. In addition to this, you can view and download certificates onto mobile and tablet for easy access.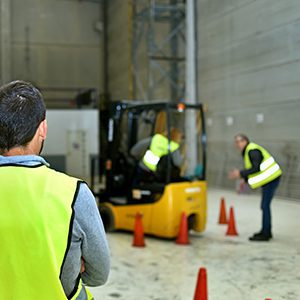 Health & Safety
The health and safety of our engineers and your staff during any of our site visits is taken very seriously. Prior to a site visit, our office staff will forward by email all the Health & Safety Documentation required. For instance, risk assessments, method statements, Safe Working Processes and evidence of required insurances. All engineers will have been advised on any specific PPE or site requirements, including site induction. This ensures that we comply with your Health & Safety Regulations and local requirements.
High Standards
We are committed to offering a first-class service at excellent value for money. With investment in highly-skilled, experienced engineers we complete inspections in a professional and efficient manner. Therefore minimising the disruption and downtime of your operation.
No contract - No worries
We won't tie you into any lengthy contracts. We offer a no-obligation quotation for your comparison. If you then decide to use our services, you are not bound into any long term contract, unless requested. However, if you require a multi fleet 2 or 3 years fixed price we would require a commitment.
Going Green
Our carbon footprint has been reduced by 60%! Through investment in digital technology, with online PDF documentation and an online web portal to access reports. Our engineers have energy-efficient vehicles and we route map their journeys to reduce any unnecessary mileage.
Arrange
All Thorough Examinations are arranged from our Head Office in Leicestershire. After that, they are sent to our engineers who are strategically located across the country. Our booking team consider everything from site contact and site inductions to any specific site requirements, like risk assessments and method statements. Above all, we fully manage your inspection process.
Inspect
The inspection of your equipment is carried out by one of our fully trained and licensed engineers. They will conduct a Thorough Examination of the vehicle or equipment, including testing and driving, to conclude the inspection. Our engineers specialise in forklift truck and other lifting equipment inspections. For pressure equipment and fume extraction, you may have a different specialist engineer.
Report
A report is completed in real-time on a tablet (where permitted) by our engineer, this will include photos of the truck and any faults found. After that, it will be sent to our Head Office and a report of Thorough Examination will be produced. The finished report will be sent to you via email within 24 hours of the inspection and accessible anytime through our secure online portal.
Powered by TEMS
What makes our service unique is the use of the TEMS (Thorough Examination Management Services Ltd) database. Custom built to allow our engineers to go through a digital checklist whilst carrying out any examination. Therefore making it quicker and easier to complete high-quality Thorough Examinations. This information is then safely stored on the cloud, ready to be downloaded at any time by the customer for their records. For more information about TEMS, click here.